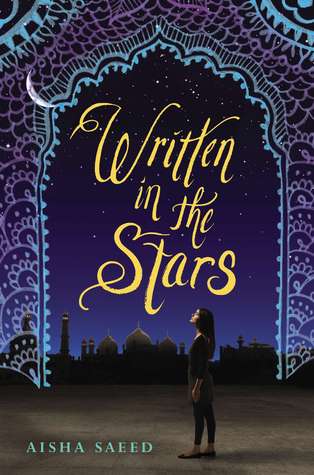 (Author: Aisha Saeed) + (Year: 2015) + (Goodreads)
---
Review:
I had absolutely no expectations going into this book. I remember seeing the pretty cover and thinking it might be worth checking out, so it did end up on my shelves and stayed there for a long time.
However, after reading the first few chapters, I was surprised by the direction and the tone of the book. The beginning was mild enough and innocent enough, as we followed the hardships of an American-Pakistani girl, who is struggling with hiding the fact that she has a boyfriend, despite the orders of her conservative parents.
The book quickly changed its tone, surprising me yet again. With Naila going back to Pakistan and staying with her family there for the summer, I was baffled as to the idea of the book and it took me longer than usual to figure out where things are going.
Once it came to me, though, I couldn't help but feel helplessly furious. Not just at the idea of this book, which is positive, more or less, but at the injustices and abominations on the female personality that are allowed to exist even in our times. The author condemned the situation the main character was in, but also, setting her personal example, kind of tried to make excuses, which made me even more angry, as I think this is something inexcusable.
Since it might be a spoiler, please continue reading only if you don't mind knowing the main storyline of Written in the Stars.
S P O I L E R S     A H E A D
So… arranged marriage, huh? Can anything positive really be said about that? I don't think it matters what your religion tells you, how pious or conservative you are, what social order and norms you are used to, taking someone's right to choose who they share their life and bed with is abominable. I am sure that no matter what I say, I would not be able to convince otherwise a person who believes in arranged marriages, however, I would compare that to rape. It is rape. It is forsaking your own child to be raped and continue living with the person who did that to them.
And no matter how this book was supposed to be received, the only thing it positively succeeded into making me is feeling angry. While reading how happy Naila's family was to send her to that man's family, I was angry. By seeing how his family treated her, I was angry. I am still angry that someone on this planet there is even one single person who is living in this terrible situation. And lastly, I am angry because of the hypocrisy of women's movements nowadays. Western women fight for their right to show their nipples on Instagram, but they don't fight for the millions of women who spend their lives married to their rapists. If your argument is that Islam praises arranged marriages, please go away, because this is just some perverted way of reading something that has a completely different meaning, exactly the same way as Islam only encourages men taking second wives in order for widows not to starve to death, and not in order to help out a man's virility and the wider variety in his bedroom.