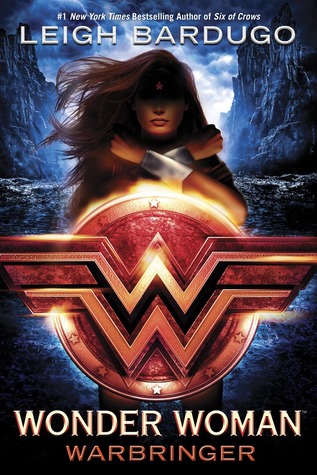 (Author: Leigh Bardugo) + (Year: 2017) + (Goodreads)
---
Review:
Let's start off with me admitting that I was prejudiced about this book. After so much Wonder Woman over-saturation, I expected to be bored by Warbringer. Also, as I didn't really read the summary, I thought this will be a usual take on the story which is already familiar to us thanks to the movie.
Color me surprised!
Wonder Woman: Warbringer does start with Diana on Themyscira, but she is not lured away from the island by the prospect of saving Steve and the world, but by the idea of her first-ever quest, which involves a young girl – the descendant of Helen of Troy, the original Warbringer, and the possible end of the world by the hands of the vengeful war gods and the humans.
At first I was not sure where the entire Alia story was going, but it turned out to be a very charming twist of traditional mythology. I quite enjoyed the fact that Bardugo took the Greek myths so seriously and embedded them in the story far beyond the mere origin of the Amazons. In fact, this book reminded me more of the Percy Jackson books than it did of the traditional Wonder Woman lore and I say that with all of my affection. I felt a pang of nostalgia remembering the feeling of being excited by the ancient gods and myths and monsters – something I haven't felt for a really long time.
The part of the story I didn't enjoy as much was the plot twist itself. While I expected something similar, because it was obviously bound to happen from the start, I didn't see that particular ending happening. It was logical, about that I have nothing contrary to say, however, it just seemed a bit… unnecessarily naive. The character who turned out to be the villain seemed to stand no real chance to win and so the stakes seemed so low that I didn't even break a sweat worrying about the well-being of the heroes. Yeah, certain bad things that I cannot mention because of spoilers did happen, but nothing less than the ending was expected.
This kind of also made me consider how much more interesting it would be if we had a darker, more somber version of Wonder Woman out there. I did enjoy this book, as mentioned above, but isn't it true that The Dark Knight, a much broodier and scary version of the previous Batman movies, is also the best one?
Bonus round: Diana speaks so much in Bulgarian. I couldn't not be amused. But even more so by the fact that the Bulgarian guy she speaks to doesn't really react much, he's just "Eh". A real Bulgarian would set up a table, bring rakia, make a salad and call all of the other Bulgarians in the region to meet the new person.