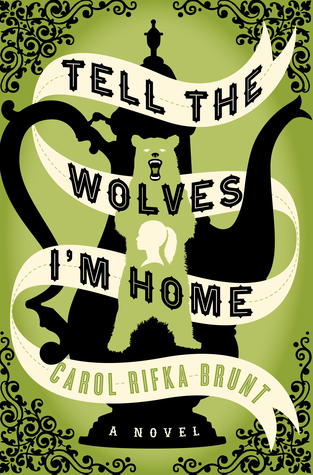 (Author: Carol Rifka Brunt) + (Year: 2012) + (Goodreads)
---
Review:
"I know all about tiny things. Proportion. I know all about love that's too big to stay in a tiny bucket."
*** 4.5 stars ***
(but since I haven't stumbled upon a good novel in a while – 5 stars it is)
I had mixed feelings before picking up Tell the Wolves I'm Home. Last year I read an entire bunch of books with similar summaries, which were very highly rated and turned out to be disappointments. (For example I'll Give You the Sun) Ultimately this book was my pick for a buddy-read. I don't regret it.
The title is so cool. Face the facts.
The story is actually quite good and very honest, if a bit messed up.
The characters have interesting and detailed personalities.
"You can build a whole world around the tiniest of touches."
Not sure what I expected from a story about getting over the grief of an uncle's death, but as far as similar novels go, this one was a good one. I liked following June's journey as she came to terms with the events and tried to understand and resolve her feelings. Greta's story in my opinion was a very good one. It was to some degree separate from the Finn arc in a way that June only cared about what was happening to Greta as long as it was connected to Finn. Which was frustrating. And we couldn't really get to the bottom of Greta's feelings, simply because June did not. The way I see it, the idea of how the reader is unable to understand Greta's full palette of emotions is the way she probably felt because of June's behaviour.
And I think that if the reader is to look objectively at June, not as the sad and strange narrator, but the way other people around her in the story would see her, she is quite the mean and unpleasant, disinterested person. She has one passion and she only follows that, nothing and nobody else matters. I would like to think that by the end of the book, she managed to grown into a bigger, kinder and more understanding person.
Toby was my favourite in the book, though. He was so infinitely sad and at the same time so positive. His entire idea of his past and how it was all good, because it lead him to meeting Finn was heartbreaking but beautiful.
A lovely book as a whole. I'm really impressed by the fact that it's Brunt's debut novel and I'm looking forward to any other she may write.