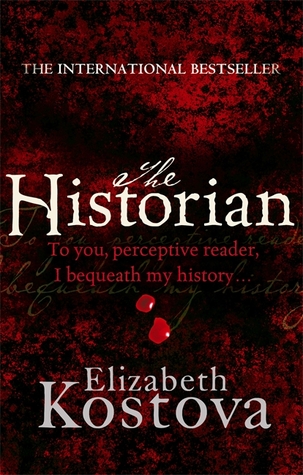 (Author: Elizabeth Kostova) + (Year: 2005) + (Goodreads)

---
Review:
As I mentioned in a recent review of mine, I visited Romania last month and I had an extremely strong desire to re-read my favourite Dracula books so I returned to Stoker's Dracula and, of course, Elizabeth Kostova's The Historian, which has to be my favourite vampire book ever and I don't see another book taking its place anytime soon.
My history with The Historian is a long and complicated one. My English teacher turned out to be an acquaintance of the author and could have met her around the time Kostova was writing this exact book, though I don't know that for a fact.
It rarely happens so that I don't remember what made me get a certain book, but I honestly have no recollection as to how I decided to buy The Historian. But still, one of the best purchases in my life(and I've actually bought it twice since someone stole my first copy of it).
What's amazing about this book is that it might be a book on the supernatural and it might have a great role in the book, but ultimately, it's not a mind-numbing fantasy and instead the story takes the shape of a very believable and thorough investigation, which almost makes you feel like it's completely credible and realistic. At certain points, while reading the book, I've felt like it's the absolutely true account of events which really happened.
My favourite thing about The Historian, which might or might not surprise you, is the travel and the geography. The  way the author describes places, the places she describes and her undeniable passion for travel is enough to spark the flame of wanderlust inside the reader. Kostova talks about my own country, Bulgaria, in a way which makes me want to pack my bags and start exploring. I almost feel ashamed that she has an appreciation for Bulgaria which I don't think I've ever had.
I was sort of sad that she doesn't talk about my own new passion, Romania, as excitedly as she does about Bulgaria, Turkey or France. For a book focused on the story of Dracula, she certainly goes for locations more unconventional than the expected Romania.
My second favourite thing were the characters and just how vivid they are. They are not perfect, not even that good-looking by the authors description – instead they are realistic and flawed. And since I think that I'm very pedantic myself, I love that some of the characters were, too.
I highly appreciated the layers upon layers of story-telling in the book. There was one particular chapter in which the daughter is narrating the narrative of her father about the narrative of Professor Rossi about somebody else's narration. I've also always admired authors who include all types of means to diversify the story, those being letters, notes, books, conversations and so on.
If there is one thing that I'm not fond of, it is how replaceable the secondary characters are. It's natural that in an adventure like this one many characters will come and go, but I felt like some of them were too big a part of the story and yet completely forgotten in the aftermath. Such were Helen's mother and aunt, Hugh, Stoichev, even Turgut Bora.
And speaking of Professor Bora, I would absolutely love to read a novel about his secret organization, set in Turkey. That would be absolutely marvelous! Considering how fantastic Kostova is when talking about travel and foreign countries, I think I'd learn so many new and amazing things about Turkey if she wrote about it.
Last, but not least, I was fascinated by the many little facts that Kostova mentions and to which you might not have paid the needed attention but if you consider them out of context, they are certainly wonderful. Aside from facts about the world or certain countries/cities, the information she provides about Dracula himself is amazing and so is her literary knowledge. Sadly, it would take me quite a long time to comb through the books mentioned in The Historian and find which ones are real and which ones made up in order to contribute to the story. But it would be a real pleasure to find many of the real sources and especially ones that have anything to do with the history of the Balkans, since it has been an interest of mine for a while and especially since I started learning more about Turkey and gained a new perspective through which to appreciate the good side of the Ottoman Empire, even though I fully realize that there was a bad one, too.
Though many of you might not find this book as realistic and as wise as you might want it to be, it's actually a great mix of everything that I, personally, appreciate in literature: it's entertaining, it's thought-provoking, it's informative on more than one level, and especially when it comes to history, it's well-written, the characters are well-built and it keeps you on edge.
Keep in mind that I think life is entirely too short to re-read books and yet I've read this one three times. As many of my favourite books, it gives you something different each time you read it. For example, the first time I read it, I was mainly fascinated by the Dracula story, after that I remember paying a lot of attention to the travel element in the book the second time I read it. Now that I have a full-blown obsession with the Balkans, I'm in awe with the descriptions and the history.