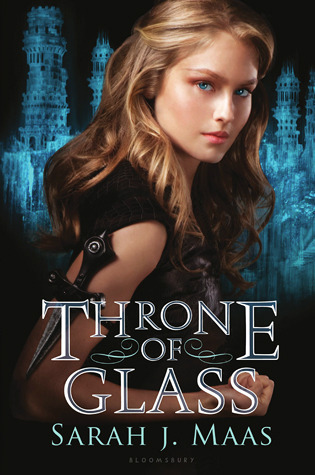 (Author: Sarah J. Maas) + (Year: 2012) + (Goodreads)
---
Review:
If you have been following my blog for some time, you would know that I have a special place in my heart for YA novels. If you haven't, there it is. If I have a reader's block, or I just want to read something that I expect to like, I will choose YA.
After I got fed up with Atlas Shrugged, I decided to take a break and read something light and nice. Even more so, I chose a series that has received a lot of positive reviews in the last few years.
I would say that Throne of Glass is largely overhyped. I would not put it at the bottom of the YA books I've read, but it's definitely not good enough, in my opinion, to be placed so high up, either. With 378 339 ratings and an average of 4.23, it stands as overhyped through and through.
My biggest issue with this book was the main character. Celaena is the single most self-involved character that I've read about. What is worse is that unlike other similar characters, in which that is a bad quality and is supposed to be noticed and disliked, I don't have a drop of doubt that Sarah J. Maas thinks that Celaena is perfect as she is. Well… don't be fooled.
The first 30% of Throne of Glass are Celaena talking about herself and bragging to no one in particular. She is beautiful, she's strong, she's the best, she's the fastest, the deadliest, the smartest, the most clever, etc. etc. etc. Celaena literally takes everything every other character says and in her head argues that she's better in it. "Oh, that lady is beautiful!" – "No, I'm more beautiful". "You are beautiful." – "Not only that, but I'm also the deadliest assassin, beat that!". "You are the deadliest assassin!" – "And I'm also super beautiful, you loser." She was really hard to stand, honestly.
And coming back to the fact that she's the deadliest assassin in the world yadda-yadda, she talks a lot, but she kills just once in the entire book and the rest is just bragging. Every character in the book has heard of her and she is super scary, yet she has the chance to kill an evil monster and she doesn't.
While we are at it, Celaena also happens to spend her days reading, play the piano masterfully and be just 18 years old! Because you can learn how to kill a person in 12804 different ways, while also reading and playing the piano.
The other characters that are more prominent in the book are prince Dorian and Chaol, the chief of the royal guard. One is pretty and likes Celaena and the other one is strong and likes Celaena. You get where I'm going? Both of them severely lack personality, so that's about what we know about the two of them. There are very minor details revealed, because, after all, who cares what kind of people they really are, Celaena is beautiful and deadly, right?!?
The things that I did like about the book were the general setting and the magical elements. If the author starts paying more attention to those, I can see a pretty interesting story forming. The Wyrdmarks plot was by far the best story of in the book and I was actually interested to read more about it.