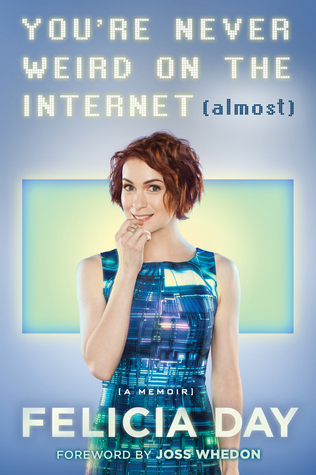 (Author: Felicia Day) + (Year: 2015) + (Goodreads)
---
Review:
I think my level of nerdiness is easily shown by the fact that I have no idea when I started being aware of Felicia Day. It has been that long. I knew of her before Supernatural and on the other hand, I'd never heard of her series, The Guild, so my best guess is that I've seen her in so many shows that she just started… being there – somewhere in some corner of my brain.
That being said, I've never paid enough attention to become a fan. But now that I've read this book, I can boldly say the following thing: Felicia Day, in case you are reading, you are awesome!
I'm not a fan of memoirs, not really my thing, but I had so much fun reading this book. What's great about is that Felicia is so very honest about all of her fears, insecurities and weak sides. She just puts it out there in the open, in a hilarious fashion at that. Probably the best touch in the book are her personal photos which both relate to the story and are just crazy and funny.
I really liked how she gets into some very serious topics but approaches them in a way which could help the reader to not feel bad about themselves if they have the same issue. She goes from family drama to teenage loneliness to game addiction to severe depression. Most of us have experienced all of those at one point in our lives and the way these problems are presented in the book says: Don't hate your self, you are normal, you are human. I loved that. I really hope You're Never Weird on the Internet reaches many young people and helps them accept their weaknesses, their fears, their awkwardness and at the same time helps them build this will to fight and be their best selves and never take "No" for an answer. Actually, I hope this message reaches many people of all ages…