SOURCEBOOKS FIRE GIVEAWAY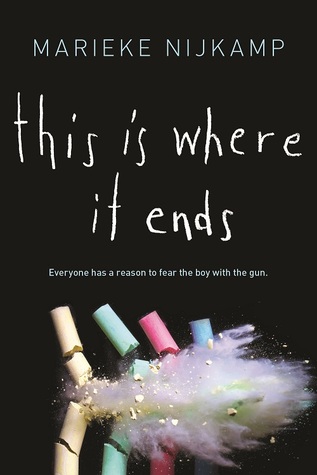 A couple of months ago I reviewed "This Is Where It Ends" by Marieke Nijkamp. You can find the review here. And although I didn't love the book, that shouldn't stop you from also reading it and deciding for yourself. Now Sourcebooks Fire offers you this opportunity.
Sourcebooks Fire is giving away advance copies of This Is Where It Ends along with chalk boards & chalk. We invite you to read This Is Where It Ends and use the chalkboards to express how this book made you feel. Feel free to use words – even a single word – or pictures. Was there a certain character that spoke to you? Were you left speechless and angry? We want to know – and SEE it on your board. Snap a photo and share here on the Tumblr site for the book, or any of your social networks. Please tag all posts with #thisiswhereitends #sourcebooksfire.
To enter the giveaway, click here. Good luck!