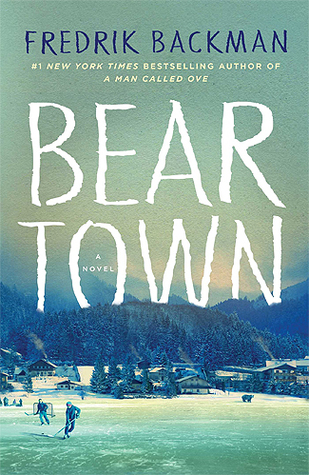 (Author: Fredrik Backman) + (Year: 2016) + (Goodreads)
---
Review:
A Man Called Ove was one of the best books I read last year, so I was interested in reading another one of Backman's novels. A friend lent me Beartown and Us Against You, so I immediately got on with it.
Beartown was a rather good book, although it was more sad and dark than I expected. That's not necessarily a bad thing, of course, but I was taken off guard by the sober and honest narrative of the problems of a small, lost town in the Swedish forest. Had this book been American, I kind of expect there would have been a lot more sugar-coating of the heaviness in the hearts of the characters. European authors, however, often have this cheerful way of telling sad stories.
And I think that's what Beartown really was – the sad story of people who deserve to be happy, and how they deal with that. I felt that the characters had a lot of personality and were very realistic, which is something I always greatly appreciate. The inhabitants of Bjornstad all had their own crosses to bear and it wasn't very easy to separate who's good and who is not, as it was obvious that even good people do bad deeds, and bad people can surprise us by lending a helping hand.
Out of all of the characters, I liked Benji the most, and my suspicion is that so did most people. He was the one person in the book who always stepped up, despite his constant urge to fail. I felt like this was the kind of person that I would rather be – predisposed to failure, but instead fighting for success, rather than a person like Kevin – used to success and bored with it. But really, each character presented a different moral that the author wanted us to draw and this was done so smoothly that I wasn't even annoyed and I didn't find it preachy.
Beartown was not flawless, however. I would say that it had more issues than A Man Called Ove, for example. At a certain point I started growing tired of Backman's writing techniques. I felt like almost every statement in this book was made at least twice (when it came to Beartown's love for hockey, then 200 times). For example, we read time and again how no one outside of the town would understand their love for hockey. Okay, I get that I will not get it, enough already, let me read. Same thing applied to the ominous way of delivering information about the upcoming violence "There's going to be violence.", "No one knows how the violence came", "People will later talk about the violence in the town" etc etc.