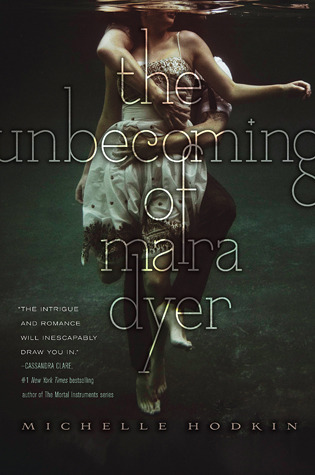 (Author: Michelle Hodkin) + (Year: 2011) + (Goodreads)
---
Review:
I keep YA novels as my refuge for whenever I am feeling down, or whenever I have read a particularly bad/boring/tough book. That's how this entire series ended up staying on the last page of my Kindle for years.
Well… I could have gone several more years without it, to be honest.
The premise of the book is quite good and at the beginning, I was pretty excited by the mysterious and ominous atmosphere. And that's where things ended.
I really could make up my mind about what this book was supposed to even be. Romance? Horror? Parody?
I guess I will go with… a dream. It's the author's dream of what she'd like to have in life. The main character is a rather dull, very unsociable and awkward teenager. After losing her best friend, Mara moved to a new school where from a total nobody, she turned into a superstar because of her charm… brains… wits… Errm so it might be because of…
Which is the only compliment anyone ever gives her, outside of her boyfriend.
And don't even get me started on the boyfriend. A.K.A the most perfect human that ever lived, or so says the author. Has a posh English accent, has read hundreds or even thousands of books, quotes entire pages of Lolita like it's nobody's business, drives a fancy car, has a multimillionaire/billionaire father, is worshiped by everyone in school, is handsome as hell, has beautiful eyes, has a lovely soft hair, is very possessive and willing to fight for his girl, is a great kisser, doesn't kiss and tell, has superpowers. Excuse you. It's not really like he's a person at all. The author basically made a character who is 70% Ken doll and 30% British Captain America figurine.
And so this highly unlikely pair happens to match perfectly and create a super-duo. In a great lovestory adventure! Oh, wait… no. In a YA horror story? Not really?! So what are these two actually doing, even?
The entire supernatural story was not much more convincing than the love one. The events were rather scattered and random and I wasn't even sure I cared to find out what's going on because there was this general notion of: