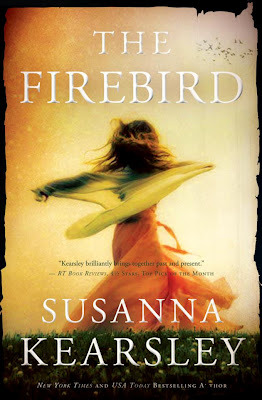 (Author: Susanna Kearsley) + (Year: 2013) + (Goodreads)
---
Review:
Another book I've had for a really long time and just now decided to read. Well… I wouldn't have missed out on much, had I not read it.
The Firebird was not terrible, but it just wasn't anything special whatsoever. It was bland and long and not very eventful. While I expected the characters' powers to be an important driving force of the book, they seemed more like background noise, while the main story was that of the character of Anna, who was just a little girl caught in an a somewhat exciting period of history.
I will not pretend that I was familiar with the historical background of the book, because in all honesty, it was something that Bulgarian history books must have considered somewhat irrelevant to us. Therefore, I managed to learn some interesting facts about the struggles in Scotland, Ireland and England, and also a great bit about the history of the Russian empire and St. Petersburg. From this point of view, the book was more or less entertaining.
But that's where it all ended.
The actual story was not even that of a main character of the abovementioned events. Anna was just a nice girl who knew all the right people. The other characters in the book all seemed to be greatly attached to her, but I just couldn't understand why. Her charm remained a mystery to me, and so did everyone's infatuation with her.
I felt more or less the same about the other two main characters, Nicola and Rob. I think I would have liked to read a bit more about them so that I can actually be interested in at least one storyline in the book, but they were just as shallow of characters, as Anna seemed to me.
While The Firebird didn't suffer from any spectacular flaws, unfortunately, it didn't have any great virtues either. So much so that I'm afraid I will have forgotten all about it in a couple of months' time.