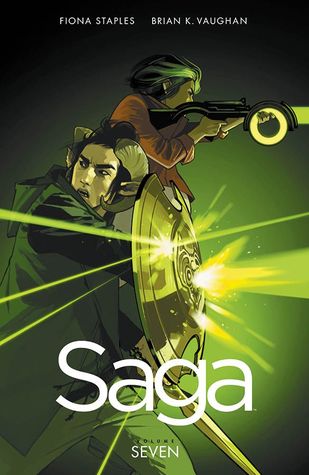 (Author: Brian K. Vaughan) + (Year: 2017) + (Goodreads)
---
Review:
I definitely liked this volume more than the previous one. Aside from the story being a lot more thought-through and less transitional than the one in the previous volume, it was also a lot more serious and mature.
In fact, I think this is one of the most serious volumes of Saga in general. Despite Prince Robot's ding dong close ups and everything…
Two things made this volume more grown up for me:
The refugee crisis. It was reflected 1:1 as what we see in our day-to-day reality. The native population of Phang was how the author wanted us to see the real refugees as well. There was the element of religion, the element of outside intrusion, and also that of the innocence/fanaticism of the locals.
This quote:
"You know that old cliche about the millions of deaths being a statistic… while the loss of just one life is a tragedy?

If that's true, what is it when you lose something that never even had a chance to be born?

I've had lots of relationships in my lifetime, platonic or otherwise, but the ones I think about most are those that never quite made it to term.

…

I guess I'm just haunted by all that potential energy.

One moment the universe presents you with this amazing opportunity for new possibilities…

…and then…"
I also saw in this volume that the stories of the characters are finally moving forward, all of them, from Hazel's family, to The Will. I'm looking forward to the new volumes.