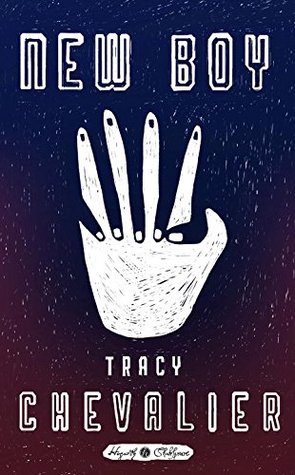 (Author: Tracy Chevalier) + (Year: 2017) + (Goodreads)
---
Review:
This is the description that I read and therefore decided to read the book: "Arriving at his fifth school in as many years, a diplomat's son, Osei Kokote, knows he needs an ally if he is to survive his first day so he's lucky to hit it off with Dee, the most popular girl in school. But one student can't stand to witness this budding relationship: Ian decides to destroy the friendship between the black boy and the golden girl. By the end of the day, the school and its key players – teachers and pupils alike – will never be the same again."
Add to that the fact that New Boy is a retelling of Othello, and you have a pretty curious premise for a book. Right?
In reality, the initial idea of the author was not necessarily bad. Some of the points that she made were also pretty valid and interesting. Ones such as racism, politics and hormone-based relationships.
However, the fatal flaw of the book was the fact that it takes place in a single day in the sixth grade. The story of Othello has no place among such young children, and neither do the author's musings on politics, race and sex. I was a child not that long ago and I do remember what my interests were in the sixth grade. I can assure you that it was not kissing boys, thinking about "going all the way"; or about radicalism, the void between being a child and being a teenager and how to abuse my teachers.
"(…) [they] had only kissed when they played spin the bottle during recess – and then only twice, as it was shut down by teachers once they found out what was going on. But her response to O was not experimental. This is what I have been waiting for, she thought. This."
Really? You've been waiting for meeting a boy in the morning in the playground and becoming his girlfriend by lunch? How long has the waiting been going on for? The entire 12 years of your life, or what?
It's in no way realistic that such young children would be experiencing any part of this book, which renders the book itself not as good as it could have been. The reason for that is that it takes a toll on the reader to try to accept the book as a union between its content and the figures that are enacting it. Yes, Chevalier has a good point about, say, racism in schools in America, especially so in the 70's. But would the situation really look like that in a group of such young kids? Would they make up sly and elaborate plans to destroy each other? More so, would this story really have the time to develop in the span of a single day? Or would O and Dee's relationship really happen the way it did? Would it happen at all? Because even the most outgoing of kids at that age from my school in the 2000's were not really kissing, dating and discussing sex, unless it was rumors about which of the much older kids from the school are doing it.
Therefore, New Boy was just so implausible to me that I couldn't enjoy it without groaning and rolling my eyes at scenes that were so out of place and unrealistic.