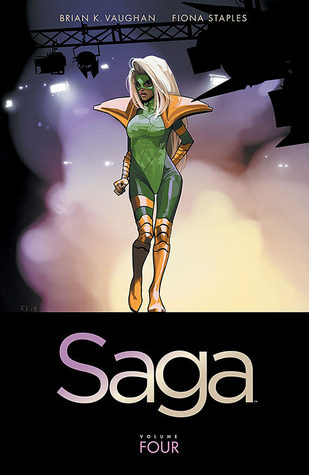 (Author: Brian K. Vaughan) + (Year: 2014) + (Goodreads)
---
Review:
Now that the characters actually managed surviving the birth and infancy of Hazel, it is time that they try being parents. It is always interesting to see such mundane topics in the middle of epic or fantastic adventures and how you can survive the attack of others but those closest to you can be your ruin.
I think that applies not only to Marko and Alana but also to Prince Robot IV.
To be honest, I was pretty annoyed with the entire "dance teacher" event, but Alana's drug problem was also not admirable at all, so I think this shows how messed up as people Marko and Alana are and it is a way to appreciate their efforts and struggles more.
I also thought the rebel robot was pretty interesting. On whether or not he is a villain, I have mixed feelings. Even if his actions toward the royal family are understandable, he is still an overall psychopath. But it is always so refreshing to see someone being EFFECTIVE for a change. No matter hero or villain, in media they always do half-assed jobs in order for the creators of the show/movie/book/etc. to have a bigger pick of problems to continue the story with. Am I right or am I right? So good or bad, he got the job done and I though that was cool in a way that it was just satisfying that something is getting done.
Not to mention that Gwendolyn and co and the journalists were barely there! Joy!
And this guy was. My new favourite Saga character, ladies and gentlemen, Ghus!