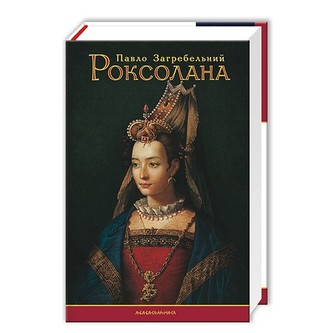 (Author: Pavlo Zahrebelnyi) + (Year: 1989) + (Goodreads)
(Around the World: Ukraine)
---
Review:
If you have not heard/read about Roxelana, I suggest you do so. She was quite the badass and a reason enough for women to be proud of themselves. Roxelana was the legal wife of Sultan Suleyman, and a woman behind an empire, which did not value the woman as a person to respect at all. She was not only the mistress of the harem, but  a skilled and diplomatic politician. One of the legends, one which is not used in this book, claims that clever Roxelana accepted Islam and then used it to make Suleyman marry her, claiming that no good Muslim woman would just lie with a man without marriage.
All that being said, Roxelana by Pavlo Zahrebelnyi does not show this interesting and mysterious woman as such. It is mentioned that people think of her like that, but we are not shown any reason to support that opinion. The Roxelana we see is rather a depressed woman who cannot make up her mind about whether she wants to be the sultana or to go back home to her decimated village of Rogatin. We also read about her going on and on and on and on about how she is a bird in a gilded cage, even though she was in fact maybe the most powerful woman in the world.
Therefore, I can't say that I appreciated this approach. We did not witness her charm, we just read that she had some.
While I didn't like Suleyman as a person, his description was much more successful and realistic to me. He embodied all of the characteristics a person in his position and of his breeding and rank might, including the negative sides, but also the weakness, not just the imperial strength.
And although the book dragged a lot and there were moments I was simply fed up with Roxelana's laments, I still think that the language was beautiful. Even in translation, which is almost never enough to show the beauty of the original, the book was written in a lovely fashion. And despite there being many inaccuracies (for example Hurrem claiming that Suleyman conquered the caliphate, when in fact it was his father Selim I), I should say that I admire the cultural and historical background Zahrebelnyi offered. We received information about things such as traditions, cuisine, history and even language of many groups which populated Europe back then, and were also shown the author's deep knowledge of the Ottoman empire and Ottoman Turkish, including some period slang, which drastically changed its meaning later on, but the author was familiar enough with it to show it to the readers.