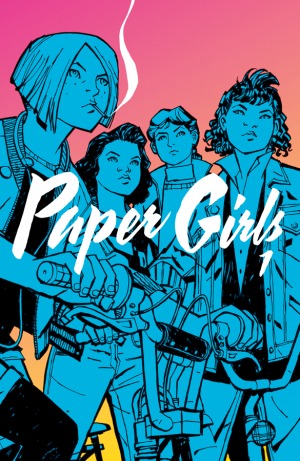 (Author: Brian K. Vaughan) + (Year: 2016) + (Goodreads)
---
Review:
The first issue of Paper Girls was great, I was immediately taken by the story and I quite enjoyed the graphics. You can read about it over here.
And then, thanks to NetGalley, I got the full volume, I was super excited and… Nothing. Absolutely every issue in this volume could act as a first issue. We receive no new information and there is barely any development. When you start with a bang! you should continue the same way. But instead, Paper Girls turned into this mess of past, future, present, aliens, technology, weird languages. I don't think I will be fully convinced even the authors know what they are doing, until I see an actual explanation of… anything. Which so far has not happened. Sure, I got the basic idea, but there has been absolutely nothing about what led to these events, or what the significance of these particular girls is or what they are doing/they should be doing.
I tried hard to continue liking it because it was my favourite out of the Image Comics first issues, but I'm overall disappointed with the full volume. I think many of the other first volumes were much, much better, even though Paper Girls was among the most promising ones.