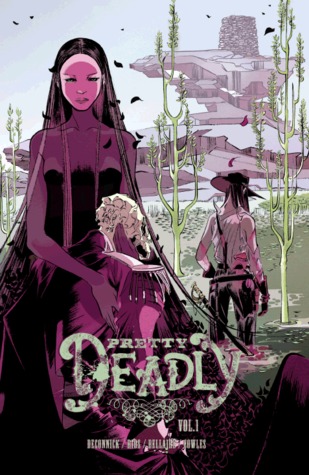 (Author: Kelly Sue DeConnick) + (Year: 2014) + (Goodreads)
---
Review:
Out of the volumes that I have read and excluding the random issues that have passed through my hands, I think this is by far my least favourite comic book. I first stumbled upon issue #6 and it was so wildly confusing that I decided to check out the beginning of the story. Sadly, that turned out to be a total disappointment.
For starters, the first five issues are very slow, all of the random battles on the frontier are completely interchangeable and I cannot see a way I could have finished even the first five issues if I had to actually wait for weeks to get to the next one. The bleak landscape and the unpleasant characters were the end for me. Ginny is basically the one character that they try to sell the hardest in each issue but from her brief appearances I thought she was harsh and annoying. None of the others managed to grab my attention in any other way and the final issue was just rushed and everything happened all at the same time. There was not even time for tension to build before it was over. What was the point of it all? Well??
And after I finished the first five issues, I went back to number 6 and it was still far fetched and disconnected from the others.
I shall not be revisiting this series.