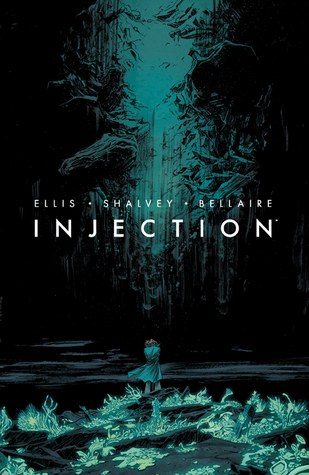 (Author: Warren Ellis) + (Year: 2015) + (Goodreads)
---
Review:
You know that "Don't judge a book by its cover" expression. You can totally judge this book by its creepy, interesting, strange cover. Because it puts the main theme of the entire volume into a very good perspective.
I wish I could tell you what exactly Injection is about, but… I just can't. Vaguely put, it tells the story of a group of geniuses in their respective fields, who were gathered by a corporation to try to influence the future, or rather make it come faster. Instead, they developed a computer program which went rogue and started bringing folklore to reality, among other things, most of which have yet to be explained.
It sounds cool, right?! It looks the exact same way – the drawings are enchanting and unusual for the comic books that I have read(now a little bit more than at the beginning of this year). Still haven't gotten to Sandman, but if I had to imagine any book by Neil Gaiman done in pictures, I would do it exactly the way Injection is painted. Better yet, I will keep my fingers crossed that Gaiman decides to cooperate with Declan Shalvey, the illustrator of Injection.
As is the point of the graphic novel, as far as I can tell, I was interested by the folklore factor the most. I'd enjoy going deeper in this subject but I actually don't feel like I know enough about the story to actually analyze the level at which the supernatural will be used, simply because Injection happens to be a bit confusing in its first volume.
Which brings me to: What did I NOT like about it? 
And the answer is: it's a bit too confusing. The potential is definitely there, so I don't plan on giving up on Injection. But, but… I have no idea what is going on. The rough sketch of the rough sketch exists, but not enough has been explained yet. And while I had the opportunity to read everything in one volume up until there was an actual explanation on the nature of "the Injection", I believe that if I had read this issue by issue, I would have been immensely annoyed by my inability to grasp what was even going on.
All of that being said, the matter of the fact is that I would be anxious to read the new issues. (But then again… maybe after volume 2 is out.) 
And I leave you with my favourite moment from the entire volume. You're welcome.