As you can see, my comic book addiction is growing. Rapidly.
Someone  who I guess will read this (thank you for giving a sensitive blow to my social life, darling! :D) provided me with a bunch of first issue comic books by Image Comics. In order to keep track of them all, I decided to make a "Good" list and a "Bad" list, in hopes of continuing reading the former in the form of series. This wasn't too hard to prepare, even though all of them are equally weird.
So there you have it – the comic books that I enjoyed out of that bundle. What did these do to deserve falling into the "Good" pile:
The story was interesting and innovative.
The graphics were ranging from cool to visually stunning.
I had fun because of the sum of story, dialogue and drawings.
(That is to say, I wouldn't exactly call all of these comic books unbelievable, but they were indeed good, as you can see from the title of the post.)
Black Magick #1 (2015)
Author: Greg Rucka
Creepy ritual in the middle of the forest. Chanting. Witches… Oops, sorry, guys, my phone is ringing. 
Black Magick has this "supernatural noir" feeling about it, being an interesting occult detective story. What I liked the most about it is the fact that it drew me into the story and I'm really looking forward to simply knowing what happens later. While there are comic books which look cool even though they are not necessarily beautiful, the drawings in this one are indeed lovely and what's more, they are black and white and only get color in important moments, which adds a lot to the story itself.
On the minus side, if you pay attention to the blond witch at the beginning and especially to the last panel she's in, she has the exact face of the main character, which kind of leads me to believe that the illustrator might not have a big variety of female faces. We shall see.
Huck #1 (2015)
Author: Mark Millar
Huck is by far the most childish comic book in this entire lot. It has a story which I would have enjoyed in my early youth as well. The graphics can't be called beautiful per se but they are adorable.
Huck as a whole is… adorable. I liked it so much! (Don't be fooled by the rating, it's simply so hard to rate comic books with the same system I use for normal books.)
My absolutely favourite part about this one is the idea that Huck has to do one good thing every day. Here's something I would like to try for myself.
And I was also moved almost to tears by the "Please love him" card.
I Hate Fairyland #1 (2015)
Author: Scottie Young
This one is easy. You read it and you keep asking yourself "What the f*ck? What the fu*k?"
It's hilarious.
The story is insane. The characters are insane. The drawings are insane. Gertrude is… well, batshit crazy.
Let me back up here: Gertrude is this little girl who wants to go to a land of magic. Except when she does, she really wants to go home. But in order to do that, she needs to finish a quest. Unlike the usual stories where even little kids are extraordinarily smart, she isn't, so she gets stuck in Fairyland for 27 years, by the end of which she has gone absolutely mad and bloodthirsty.
There is also Queen Cloudia(whose hair is, you guessed it, a cloud), a bunch of dead stars, unicorn guts, getting high on mushrooms and so much more.
Yeah, enjoy that.
Monstress #1 (2015)
Author: Marjorie M. Liu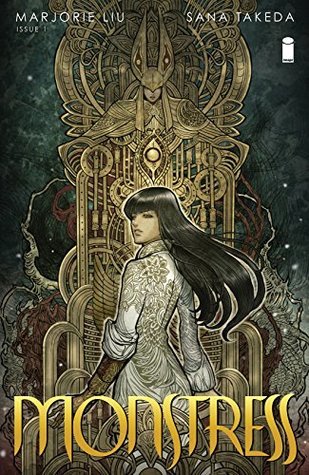 Monstress is not exactly usual for comic books as I know them and it's rather reminiscent of manga. The story itself has some Eastern themes such as a kitsune-like cat with two tails and so on. The characters are on the scale from "weird" to "a sort of cute tiny little cyclops that gets killed pretty fast".
If you want something both magical and sexy, this is for you.
But also if you go "Awww" at humanoid fox babies, this is for you.
Paper Girls #1 (2015)
Author: Brian K. Vaughan
I can't exactly pinpoint the charm of Paper Girls but it's undeniable that I liked it a lot. Sure, the drawings are nice, the story is shaping up pretty well, the humor is enjoyable. But all of those, or at least most of them, apply to many of the comic books on this list which I still rated lower. So why I felt like 4 stars was the appropriate rating? Beats me.
However, I do think I'm slowly but steadily becoming a fan of Brian K. Vaughan. Whatever I have read out of his works has always been very creative and funny in a snarky way and at the same time sort of disgustingly creepy but not terrifying. Does that make sense? I sure hope so.
The Goddamned #1 (2015)
Author: Jason Aaron
The premise of The Goddamned is fantastic. The mix of biblical characters is very interesting to follow, even though the entire comic book was gruesome and, at moments, unpleasant to look at. I do still have many questions about this but I guess I will have to follow the story to find their answers.
Saints #1 (2015)
Author: Sean Lewis
Many mixed feelings about Saints. I liked the story and at the same time I found all characters except for Saint Sebastian hard to like. And he was only likeable because he was hilarious.
Overall, there was not a normal person anywhere in sight in this one, but I still think it would be very interesting to follow the big picture. I think the archangels arch could prove to be great.