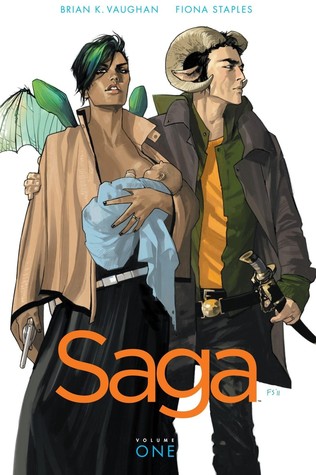 (Author: Brian K. Vaughan) + (Year: 2012) + (Goodreads)
---
Review:
YAS!
One-word review.
OK, fine, I will elaborate: Saga, Vol. 1 is amazing. It's funny and extremely weird and imaginative. Have you seen television head robot prince and princess having sex? Neither had I. And it's one of the most disturbingly hilarious things I've seen. So is seeing the same prince contemplating life in the toilet.
And they are not even the main characters.
Everything about Saga is… different. In a funny and kind of gross way. Floating friendly ghost with hanging intestines? Check. Somewhat sexy spider woman assassin, who is in fact spider-shaped? Check. Prostitute planet with prostitutes who are only a giant head and a pair of legs? Check and double check.
I know how strange this sounds. It definitely is. But it's also worth seeing. I definitely recommend you give Saga a try, I don't think you'll be disappointed. 
I plan on continuing it just as soon as I can.