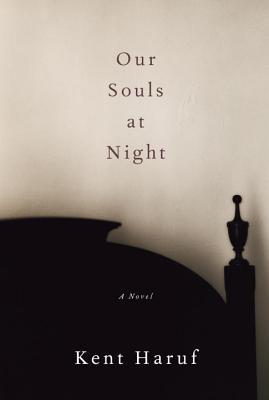 (Author: Kent Haruf) + (Year: 2015) + (Goodreads)
---
Review:
*** 3.5 ***
I found this book through the Goodreads Book of the Year awards and the title just stayed with me for a couple of days until I finally decided to get the book and see what it was about. That probably lead to too big expectations because now I feel somehow let down by Our Souls at Night. And at the same time, I also feel haunted by it.
The book tells the story of two people in their seventies who, due to their loneliness and need of another soul to share the dark nights with, decide to get together and talk and make their lives more bearable. Kent Haruf's style in Our Souls at Night is very simple and… elegant. He doesn't go into complicated philosophical sentences, he puts everything clearly and neatly and despite that, his words are full of emotion  – it's a bittersweet mix of hope, pain and sadness.
"Addie turned off the light. Where's your hand? Right here beside you where it always is."
Throughout most of the book I didn't feel like it affected me too deeply. Of course I've felt loneliness, but not the kind one feels when they already know their life is nearly at its end, that they've already tried their best and there is not much to happen in the future. I think that's what these characters were feeling. And I thought I was untouched by it up until the very end of the book when I realized how sad it made me. This idea that all our dreams and fantasies and the love we give to other people finally lead to the basic need to hear someone breathe next to us in the darkness of the night and also the lack of such a person. And how our best effort and purest intentions can still be shattered by someone else's malice and jealousy and lack of compassion.
So I'm not sure what I feel for Our Souls at Night. It's more complicated than it seems. I know I'm even contradicting myself from the first paragraph.
"So he never passed her familiar house again, in the night. Walking past in the day didn't matter. And the few times they happened to meet at the grocery store or on the street, they looked at each other and said hello but that was all."