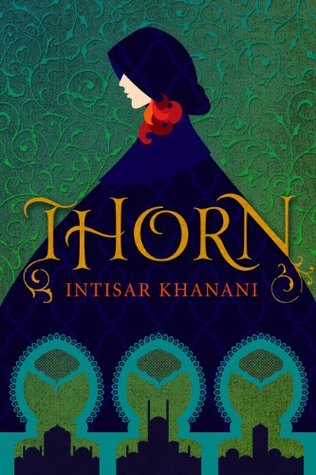 (Author: Intisar Khanani) + (Year: 2015) + (Goodreads)
---
Review:
The acutal rating is about 4.5, but I'm pleased with Khanani, so 5 stars it is.
A couple of months ago I wrote about Intisar Khanani's Sunbolt. As you may have seen in that review, I liked the book but I wanted and expected more. I'm SO SO glad I decided to follow Intisar Khanani's work because Thorn is great! 
If you are a fan of A Court of Thorns and Roses, you should be able to like this one too!
What's great about this book is that it has this lovely fairytale-like quality. The main character Alyrra/Thorn is a perfect mix of our favourite Disney princesses: she is smart like Belle, humble and hard-working like Cinderella and kind like Snow White. I rarely fully approve of a YA character, but if there was ever one that I thought was worth of admiration, it's Alyrra. I had some issues with her stubbornness, but all of her other actions made me really, really like her. And it was her good heart that completely won me over.
The entire story was much better thought through than the one in Sunbolt and instead of being loaded with constant frenzy, it was slower(which is to say it wasn't slow, it's simply that Sunbolt is a very fast-pacing book), the plot was interesting, the characters had some thought behind them, something moving them and it was fun being able to glimpse into their personalities. The mystery in the book was also on a good level and there are still questions I'm asking myself, and therefore hoping for a second book(whereas I usually hope that a single book won't turn into a series). Among the things which intrigued me the most was Red Hawk. For the majority of the book I thought that he was Prince Kestrin and he was changing his looks through magic. But that theory turned out to be wrong. I still thought that there was nice chemistry between Alyrra and Red Hawk, so I'm keeping my fingers crossed for a possible next book.
That doesn't mean that I didn't like Prince Kestrin, though! I was very interested in how his personality is going to develop and what kind of person he is going to turn out to be. I was not disappointed. I especially loved the scene with the tree.
NOTE: Right before I posted the review, I took a look at the GoodReads page of the book, only to find out that there is an actual fairytale called Goose Girl. How I've never heard of it is a mystery to me, but I'd like to say to Ms Khanani: YOU GO GIRL! I really love good re-tellings of old fairytales.