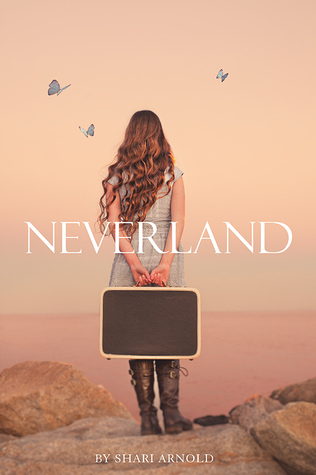 (Author: Shari Arnold) + (Year: 2015) + (Goodreads)

---
Review:
So, so amazing! Honestly, this is a truly beautiful and heartbreaking little novel.
I'm so glad I stumbled upon this gem, and really, it was a stumble. I had promised myself to lay off of NetGalley, because exams are coming, but there this lovely cover was and I hit the Request button before I could stop myself. And I'm so glad I did it!
Neverland is a novel which I would have a hard time trying to explain to you. Whichever method of explanation I choose, I would be oversimplifying. There is magic in this book, but it's not a book about magic, there is love, but it's not a romance, there is cancer, but it's not a cancer book, there is drama, but it's not a tragedy.
In just 358 pages Shari Arnold manages to create such an intricate and beautiful world. She does have the help of one Mr J.M. Barrie, author of the not-so-beloved-by-me Peter Pan, but that's not really the point of Neverland. It's not a Peter Pan rip-off and Peter Pan is not the center of attention.
Neverland is actually a coming-of-age novel, a book about loss and the life which continues flowing after death, it's a book about letting go, but it's also a book about being happy.
I'm afraid that I cannot do Neverland the justice it deserves. It's such a touching and imaginative piece of literature.
"There's this feeling I get sometimes, that I'm displaced, like I've fallen and no one has noticed yet. If I stay real still they'll avoid me, put up pylons around me like I'm a large pothole in the ground. Yes. That's what I am. I'm a pothole. And until someone comes along and fixes me, I am dangerous. I am broken. I am not a part of this life and yet I'm still here."
This is Livy at the beginning of Neverland. She has recently lost her little sister to leukemia and her entire family is broken by that loss. Livy is such an admirable person, after the death of Jenna, instead of staying angry and aggressive, she spends a part of every day reading to the other little kids at Jenna's hospital. Her way of mourning is by letting a little bit of happiness and light into the lives of the other children with the same unfortunate diagnosis.
That's how she meets Meyer.
"The thing is, I believe him. I believe he could fly if he wanted to, because in the matter of a few hours he's made me feel weightless. So incredibly light that at any moment I could lift off. And that's really all you need to fly, isn't it?"
The reason this book is not getting the 5-star treatment is because I absolutely loved and was in awe by the fact that in the first half of the book you can feel the magic, it's right there at the tips of your fingers, and yet it's not there. In the second part of the book magic surfaced on its own and less attention was paid to the characters, which made me a bit detached and sad that this balance that I so liked was ruined.
There was a connection/comparison that I couldn't help but make, though. In case you've read and remember The Brothers Lionheart, you are going to get a certain sense of deja vu. I remember the same feeling in that book as well, at first I was amazed by the unconditional love between the brothers, and then when they changed realities, their personalities changed as well. It's not one hundred percent the same thing, but I did feel the similarities were there.
Nevertheless, Neverland is beautiful! It's just beautiful. Just read it. Seriously. I don't feel like I can explain full well how touching it is.