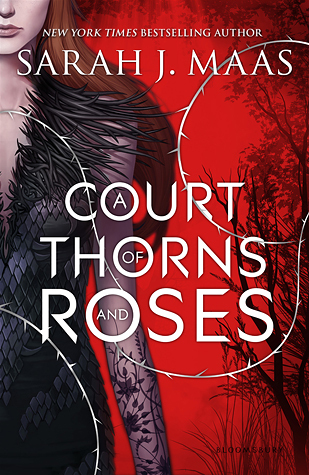 (Author: Sarah J. Maas) + (Year: 2015) + (Goodreads)

---
Review:
Ever wondered what the lovechild of The Hunger Games and Beauty and the Beast would be like? Wonder no more! 
Katniss Everdeen is in the woods, hunting for her starving family – her father, Bitch!Prim #1 and Bitch!Prim #2, when she sees a giant wolf. She kills him, only to find out later that he was a fairy and his friends now want her to pay for murdering him. Katniss is forced to leave the district, inhabited by humans, and go as tribute to the one of the career districts, namely the Spring Court. There she is in a constant danger by the bloodthirsty career fairies, but she has the High Lord looking after her, a terrible beast and at the same time, a cursed prince of sorts. Beast takes Katniss under his wing in the war against a terrifying blight which endangers the world of fae and humans alike, while he is also trying to undo his own curse.
Putting my sarcasm aside, I enjoyed A Court of Thorns and Roses. I love both THG and Beauty and the Beast so I didn't mind this interesting mix between the two(of course there was the usual fae drama as well – courts at war, crazy fairies, you know the drill). Maas's writing was fast-paced, detailed and deliciously sexy. As a young adult novel, A Court of Thorns and Roses is a lot more grown up than most, the main character Feyre is 19, the High Lord Tamlin is described as a man seemingly in his late twenties(he has understandabky lived a lot longer), and there are many sexual connotations as well as direct sexual statements and, obviously, sex.
The good thing is that the novel is not vulgar. I really can't stand this new genre that appeared after 50 Shades of Gray, where sex is the driving force and it's done as violence, including the novels which are not BDSM.
There were flaws to A Court of Thorns and Roses, of course: it was a bit sugar coated – Tamlin was only ever a beast when he wanted to be one, his most off putting physical characteristic in reality was the fact that he was cursed to wear a mask on his face; there was nowhere nearly enough brutality for a good fairy book; at moments too much was going on; the lovey-dovey scenes between Tamlin and Feyre were sometimes gag-inducing; and most of all – at some point Rhys became a more interesting character than Tamlin. After all, Feyre herself declared that Rhys was the most handsome man she had ever seen, and later he was shown as a much deeper character than Tamlin. (By that point I started getting Ink Exchange deja-vu, especially the whole Night Court story, the tattoo and all of that. Rhys by all means became Irial. Not that I mind.)
Basically, if you don't mind a little mix of famous stories and a lot more romantic than action scenes, you should be able to like A Court of Thorns and Roses. I enjoyed reading it, as a result of the fact that I wasn't being overly critical and I didn't have too high expectations. Do yourself a favor and try approaching it the same way to ensure the maximum pleasure that you can get from this book.