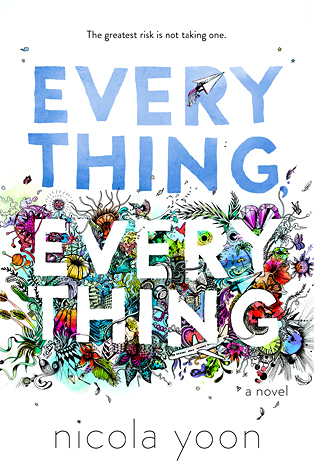 (Author: Nicola Yoon) + (Year: 2015) + (Goodreads)

---
Review:
"Love is worth everything. Everything."
This is the book. The Book. The One I've been waiting for so long. The one that makes me feel like my heart is going to burst out of my chest. 
Everything, Everything is a book about a girl who has a very rare disease which makes her allergic to the outside world. Because of that, she is forced to spend her entire life in her house, with its filtered air and its fake flowers… Until a new family moves next door and she can't be a captive of her home anymore. Not while her heart is running wild in the outside world.
This book is literally everything. It is beautifully written and illustrated, the story is wondrous and inspiring, the characters are fantastic.
This is not a book about sickness, neither is it just a simple romance. Love is the goal, but what's important is how the characters get there. What's important is being brave, not giving up, choosing what's worth living, and especially, what's worth dying for.
Everything, Everything is Nicola Yoon's first book. Imagine what the next ones are going to be like. Magic. That's what. Her skill of description is amazing and so is her ability to create meaningful dialogue and moments shared by the main characters which touch you even though there is no dialogue.
And the book doesn't let you get bored or sucked into a monotonous stream of narration. You are attacked by several types of writing, there are diaries, recipes, IMs, notes, even freaking plane tickets. And all of these go along with Nicola Yoon's husband's lovely drawings which accompany the story.
This book, for me, was like swimming in a river of emotions, getting smothered by colors and reading through my heart. 
"I'm shocked because I'm an idiot and I can't believe I said that. Carla's shocked because I'm an idiot and she can't believe I said that."
Madeline F. Whittier is a great character. She is smart, curious and compassionate. She is funny. And most of all, she loves books. Loves them so much, in fact, that a big part of this book is dedicated to other books. I loved that. I honestly did. Maddie is also great because she is so positive. Like all people, I get down sometimes. Maybe often. But reading about such a positive and hopeful character really gets my spirits up.
I'd have attached a picture of an actress I see as Maddie, but sadly, I cannot think of one half-Japanese, half-African American actress, who also happens to have freckles.
Olly was also such an enjoyable boy. Instead of the usual mopey type(you know them: permanently sad, sarcastic but rarely funny aside from that, long greasy hair-in my imagination) that seems to be the center of each teenage novel nowadays(fantasy YA excluded), he is lively, smart and sporty(but he's not a dumb jock). He is also dedicated and therefore there isn't any dating out of spite, no stupid and forced love triangles or anything. He also has his own story, instead of being just a prop in Madeline's.
Carla was a character I really liked. She was the loving mother that Maddie needed and I could perfectly envision her and imagine her language and even, sadly, the taste of her enchiladas.
My favourite character, though, was the Bundt. I mean… It just doesn't get any better than a Bundt, sipping a martini while getting ready of yet another suicide attempt.
Yes, you read that right.
MESSAGE OF THIS BOOK:
* * * S P O I L E R S * * *
What bothered me about this book is that this is not just a book about life and what it's dealt you. This is actually a book about abuse and I'm not talking about Olly's dad. Madeline's mother actually abused her, stole a great part of her life and also of her health, basically kidnapped her, save for the fact that she was her actual guardian until Maddie turned 18. There is so much more than the positive love story in this book, there is actual mental illness and insanity and all of the damage that it has done to Maddie. That part of the story is a story on its own. You could easily find a book centered just on a girl held hostage by her insane mother. I'm glad, though, that that's not the point of Everything, Everything. Yes, it's its dark and hard to accept side, but this book is so much more and its message is so much bigger.