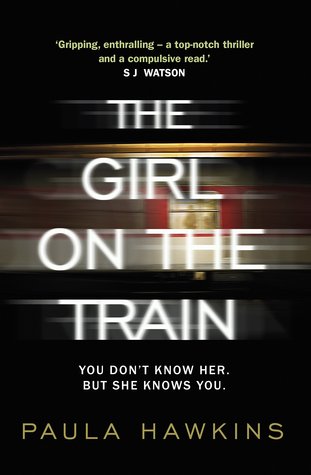 (Author: Paula Hawkins) + (Year: 2015) + (Goodreads)

---
Review:
1.5 stars
Here goes nothing…
I really, really wanted to enjoy this book. I've had it on my to-read list for a while because of the 2015 Reading Challenge: A Book Published This Year, but it was just sitting there until I read Sharp Objects by Gillian Flynn and I had a serious desire to read more good thrillers like it. Sadly, The Girl on the Train did not reach my expectations. At all.
I read quite a few reviews when I chose the book for the challenge and it seemed great – interesting, fast-paced and twisted. For me it was neither.
First of all, I was put off by EVERY SINGLE CHARACTER. Each and every one of them was completely unworthy of any sympathy and I honestly couldn't care less if all of them died at the end. Rachel was a drunken swine, absolutely disgusting and not in any way smart or interesting, as the author would make you believe. Megan was a whore without a positive side of any kind in her. And Anna was plain horrible and psychotic and her actions made NO sense whatsoever. Scott was an asshole and Tom was an actual psychopath. The cops were extremely stupid, judgmental and incapable of doing their job: the woman was a real vicious bitch and the man was sort of an idiot.
In many books with bad people as characters, I always imagine that such people probably exist somewhere, despite the fact that they are horrible, but I can't really believe that people as stupid as all of these can be real.
The story was nowhere near as creepy as described. Nothing too weird about it either. On the contrary, The Girl on the Train tells a classic and highly cliched story with a predictable ending. The only thing which would have been worse is if the killer was a stranger, then it would all be totally pointless.
As a whole, the book didn't possess almost any redeeming qualities. The only reason to give it an extra half star is that I kept turning the pages, that's something at least.