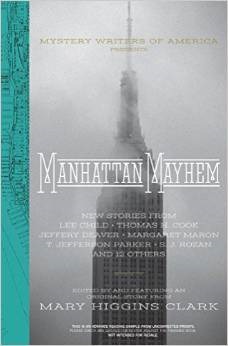 (Author: Mary Higgins Clark) + (Year: 2015) + (Goodreads)

---
Review:
When I requested this book on NetGalley, I was expecting something creepier, more complicated and also full of interesting little facts about New York. This book was none of these things. None.
I remember reading Mary Higgins Clark a few years ago, since my grandmother is a big fan and she borrowed many MHC books from the library. I'm not a die-hard fan of the mystery genre, but I do love me a good crime novel from time to time. That's why, of course, as usual, why not, I had high expectations about this anthology. For one, Ms Clark participates herself in it, for another, she was the editor so naturally I was sure she'd have chosen really good pieces for Manhattan Mayhem.
In reality, the book started off really well. In the first 5-6 stories there really was the element of creepiness and I liked the style and the flow as a whole. That was soon ruined by American writers' obsession with America's "glorious" past full of mafioso-wannabe's. I'll get back to that later. After too many bad stories, there was a spark of something with the story about the two step-sisters. And then we were brought back to the dull reality of this book.
As I mentioned above, too many of the stories are set in the past, too many of them have Italian mafia types, too many seem to lack a concrete idea and are, in my opinion, a rush order to fill a couple of pages. The authors felt that they needed to be part of this anthology, or they were asked to participate, and the result is obvious, a string of unimaginative and boring short stories which lack a lot in the mystery department, too much, considering that this is a mystery book.
In particular I knew the book had totally lost me with the Broadway Executioner which was dragged out and with an ultimately unsatisfactory ending which left me wondering whether I missed something. The total low was the short play, which was just so dull and lifeless. The last 5 stories were so boring, I barely had the willpower to finish them.
I think the biggest issue is that all of these people, the authors, decided that one can create a much better mystery in the past than in the present. I think the opposite is true, which the present is not a good arena for a few types of genres, mystery is not one of them. With our level of development, a much more complicated case can be presented and with a much more creative way to be solved. However, it is obvious that these authors were not really willing to put too much effort in a short story for an anthology. Their lack of initiative and interest is obvious by their sloppy plots. I haven't read anything by most of them, but I'm sure they put a lot more effort in their own stuff, because all of the stories in Manhattan Mayhem were made by a formula: a character with humble beginnings, a couple of sidekicks, you don't really get what's going on and by the time you do, the story is done and you are left with the feeling that all of the authors were in this for an easy buck. All of the stories that don't fit in this category, are somewhat worth reading, though not groundbreaking, just a little bit more bearable than the rest.